Termeni și condiții
Vezi documentele legale, detalii despre termeni și condiții, cursul valutar și arhiva de documente.
Vezi documentele legale, detalii despre termeni și condiții, cursul valutar și arhiva de documente.
TERMS AND CONDITIONS
Valid: 19/05/2022 – present
1. GENERAL TERMS AND CONDITIONS
These Terms and Conditions are intended to describe our practices regarding the information we may collect from you when using YOXO CHROME APP, the ways we can use such information and the options and rights that you have at your disposal. The same Terms and Conditions apply both to our downloadable application in the browser and to the www.yoxo.ro collectively and separately known as Orange Romania.
These Terms and Conditions are a component part of the Terms and Conditions of use of the www.yoxo.ro | https://www.orange.ro/termeni-si-conditii website and explain the type of information that Orange Romania collects through the website and the YOXO CHROME APP application and what Orange Romania does with them.
Before using YOXO CHROME APP or the www.yoxo.ro website, we recommend that you carefully read the Terms and Conditions.
BY ACCESSING OR USING THE APPLICATION CHROME APP, YOU ACCEPT THE TERMS AND CONDITIONS PRESENTED IN THIS DOCUMENT. IF YOU DO NOT AGREE WITH ANY DEFINED TERM, PLEASE DO NOT INSTALL, ACCESS OR USE THE APPLICATION IN ANY WAY AND TO IMMEDIATELY UNINSTALL CHROME APP AND ANY PART OF IT FROM YOUR OPERATING SYSTEM.
Print screen of the extension: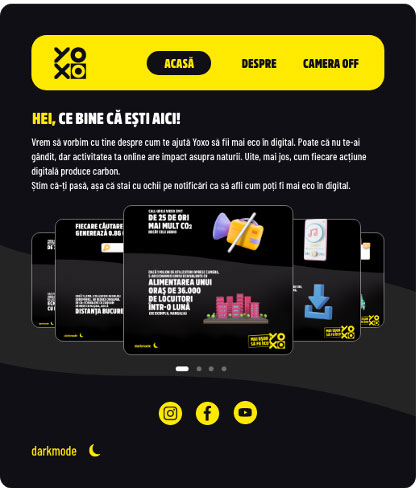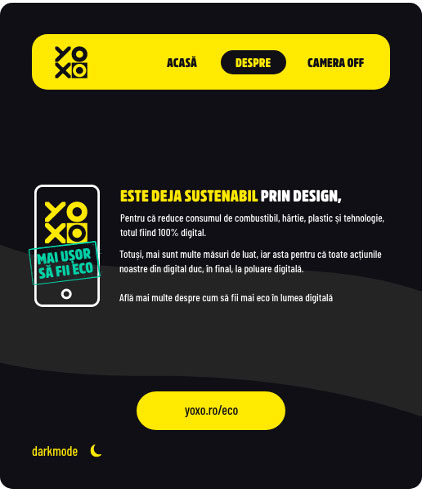 The app intends to make the users aware on how they can make their online presence more eco friendly. When a user visits some specific websites, they will be notified through push notifications on what they can do to lower the CO2 emission. The user can control which sites the app can access and the user can limit the frequency of the received push notifications.
Whenever one user is situated in a digital space in which there's an opportunity to offset CO2 through a correct digital behavior, YOXO will drop a notification, estimate the saved CO2 and cultivate that behavior through the visualization of the impact done by collective small changes.
2. THE INFORMATION THAT WE COLLECT. DATA PROCESSING
Orange Romania S.A. is a Personal Data Operator and processes personal data in a confidential, secure and transparent way.
Protecting the security of your personal data is important to Orange Romania; therefore, the activities carried out through the YOXO CHROME APP are in line with the applicable legislation on the protection of personal data and their security [Regulation (EU) 2016/679].
Through YOXO CHROME APP, we collect, based on the express consent of users, ONLY general data related to the products added in the product preferences and product statistics list in order to provide you with general product offers. We use information for statistics, analysis, research and technical support. This allows us to develop and improve YOXO CHROME APP as well as to provide our users with a better experience with more relevant products, offers and proposals.
The types of data and information collected from our users are as follows:
Non-personally identifiable information related to products added to the list by a User, that may be made available or collected by using YOXO CHROME APP. We do not know the identity of the User from whom the non-personal information has been collected. When accessing or using YOXO CHROME APP we use industry-level technologies that store certain information, ONLY on your computer ("Local Storage") and allow us to automatically enable certain features to make your service experience more convenient and effortless.
The information stored by YOXO CHROME APP is created for each session you launch when the application starts for the first time and persists until the application is uninstalled from your computer. After removing YOXO CHROME APP, all locally stored data is removed and can not be retrieved. Your local device stores only your wishlist, YOXO products, offers for your wishlist, currency conversion data, and other metadata for the proper working of YOXO CHROME APP. You can delete stored information using special tools for your device or by uninstalling the application.
You may submit requests regarding any privacy and personal data processing issues at the dedicated address (dpo@orange.ro) or using any other means of contact used in the relationship with customers, to the attention of the YOXO Data Protection Officer. Please specify the service name "YOXO CHROME APP" in the subject of the message.
Alternatively, any claims regarding personal data may also be addressed by mail to Blvd. Lascar Catargiu, no. 47-53, sector 1, postal code 010665, Bucharest, Romania, to the attention of YOXO Data Protection Officer.
All messages will be answered in accordance with the law. However, you must be aware that for technical reasons, in order to implement your requests or options, it may take several days for Orange Romania to continue processing personal data based on the previously expressed options.
As a user of YOXO CHROME APP, you have specific rights related to your personal data.
Unless the law otherwise provides, you have the following rights:
the right of access, namely the right to obtain confirmation from us that we process your personal data as well as access to it and provide information about the way of the processing;
the right to rectification which refers to the correction, without undue delay, of inaccurate personal data and / or the completion of incomplete data;
the right to delete / the right to be forgotten, ie the right to delete the collected personal data without undue delay, if such data are no longer necessary for the purposes for which they were collected and there is no other legal basis for processing, the data was collected illegally or the data must be deleted for compliance with a legal obligation;
the right to restrict the processing, which applies if (1) you contest the accuracy of your personal data (2) processing is illegal and you will oppose the deletion of personal data by requesting the restriction of the processing, (3) we no longer need your personal data, but you ask for it to be ascertained, exercised or defended in court, (4) you have opposed processing for the length of time that it is ascertained whether our legitimate interests in the processing of personal data prevail over your rights;
the right to oppose your processing, unless we demonstrate that we have legitimate reasons for processing your data, overriding your interests, rights and freedoms, or for finding, exercising or defending a right in court;
the right to data portability, ie your right to receive personal data that you have provided to us for the purposes herein, in a structured, commonly used, readable format to send this data to another operator;
the right to file a complaint to the National Supervisory Authority For Personal Data Processing (ANSPDCP);
the right to take legal action against the operator if you believe that the rights you have been granted have been violated as a result of the processing of your personal data without respecting the legal provisions in the matter;
the right to take legal action against a legally binding decision of a supervisory authority that concerns you;
the right not to be the subject of a decision based solely on automatic processing, including profiling, which produces legal effects on you or affects you in the same way, unless such processing is required or permitted by law.
Personal data may be disclosed by Orange Romania to its partners or other authorized persons
Orange Romania may communicate the personal data of Users to third parties only in the following situations:
Affiliates: Personal data may be communicated to affiliated companies for legitimate business purposes
Service providers: Orange Romania may contract service providers, agents or entrepreneurs to assist the company in maintaining and administering the Community.
Orange Romania requires these third parties to comply with all applicable data protection laws and security requirements regarding the personal data of participants through written agreements,
Consultants or Orange Romania external partners that provide assistance to the company,
Public Authorities: Orange Romania may communicate the User's data if required by law or if it believes in good faith that such disclosure is reasonably necessary for the proper conduct of tax obligations, legal processes, investigations or to respond to any complaints.
YOXO CHROME APP is not intended to be used by people under the age of 18 years.
Orange Romania has applied appropriate security measures to guarantee the security of users' personal data and has also implemented specific durations so that personal data is kept as necessary for the purpose of processing.
In order to guarantee the security of users' personal data, Orange Romania has implemented a number of security measures that are in line with generally accepted industry standards. These means of protection do not cover those personal data that users choose to communicate in online or offline public spaces.
In order to guarantee the security of users' personal data, Orange Romania has implemented a number of security measures that are in line with generally accepted industry standards. These means of protection do not cover those personal data that users choose to communicate in online or offline public spaces.
3. SOFTWARE / THIRD PARTY SERVICES
When accessing or using YOXO CHROME APP we collect and process the detailed information above. The application includes, without limitation, Google Analytics, whose Privacy Policy is available at https://policies.google.com/privacy.
4. RIGHTS
Orange Romania grants you the non-exclusive right to download, install and use YOXO CHROME APP on your browser and systems only for personal, non-commercial purposes.
Orange Romania owns all intellectual property rights for YOXO CHROME APP and other materials that are exposed in the Application.
You will not have any right over YOXO CHROME APP, except for the right to use YOXO CHROME APP under these Terms and Conditions. In particular, you understand and agree that:
You do not have permission to sell, copy or distribute YOXO CHROME APP for commercial purposes, or use YOXO CHROME APP in any way that is in violation of these Terms and Conditions;
You do not have permission to decompile or modify any part of the YOXO CHROME APP.
5. MODIFICATION OF TERMS AND CONDITIONS
Orange Romania reserves the right to edit, modify, suspend, revoke or remove YOXO CHROME APP, including its content (which may also include the User Content) at any time without prior notice and for any reason whatsoever, inter alia, to cancel access. In this case, Orange Romania does not undertake to provide any copy of any content uploaded by the user till that date.
Orange Romania undertakes to take all necessary steps to make the YOXO CHROME APP service available to users.
In the event of any conflict between these Terms of Use and the terms of the YOXO Website, these terms and conditions prevail. These Terms of Use are governed by and construed in accordance with the provisions of the Romanian law and hereby agree that the users agree to submit to the exclusive jurisdiction of the courts of Orange Romania.
These Terms and Conditions are subject to change, with effects in the future. We will only make these changes for good reason, especially as a result of new technological advances, application development, changes in law or jurisdiction, or other reasons, so you should check it frequently.
By accessing or using the application, you agree to comply with the Terms and Conditions as well as with the applicable legislation.